Are you planning a trip to the Top End and want to know the best things to do in Darwin? Perhaps your NT Road Trip starts and/or finishes trip in Darwin and you are looking for the top attractions in Darwin to visit.
We visited Darwin before and after our Northern Territory road trip and really enjoyed exploring this Top End city. So to help you plan your trip and make the most of your time in Darwin Australia, here we share some of the best places to visit in Darwin.
Whether you are looking for the most popular Darwin tourist attractions, fun things to do in Darwin, things to do in Darwin with kids or places to visit near Darwin, you are sure to find some great options in our list.
About Darwin Australia
Darwin is the capital of the Northern Territory and is the furthest north of all capital cities in Australia.
With a population of around 150,000, it is the smallest capital city in the country, with a diverse and rapidly growing population.
Darwin is also the gateway to the UNESCO listed Kakadu National Park and a popular launching pad for Outback road trips to destinations such as Broome, Arnhem Land and Alice Springs.
But while it is a common start and end point for many road trips, there are also plenty of reasons to visit this unique tropical Australian city.
So if you have time to stop and explore Darwin, here are some of the top things to do in Darwin Australia.
Top 10 Best Things To Do In Darwin Australia
1. Visit Mindil Beach
Mindil Beach is perhaps the most famous of all the Darwin tourist spots and an essential stop on every Darwin itinerary.
Not only is it one of the best spots in the city from which to enjoy the daily sunsets for which Darwin is famous for, it is also the location for the popular Mindil Beach Sunset Markets.
The markets run twice a week in the dry season and are one of the best things to do in Darwin at night.
Address: Maria Liveris Dr, The Gardens
When to go: Apr-Oct for Markets, Year Round for the beach
On a Thursday and Sunday evening from 4pm to 9pm (April to October), around 200 vendors set up stalls along the foreshore.
There is a huge range of delicious food vendors cooking up a storm as well as art and craft stalls and live entertainers.
The food, views and lively, relaxed atmosphere are the perfect way to enjoy the best aspects of this tropical Australian city.
There is free parking available, but get there early to secure a spot. A taxi will cost around $10 or there are public transport options.
---
2. Cage Dive With Crocodiles
One of the most exciting adventures in Darwin is to cage dive with a saltwater crocodile.
Crocosaurus Cove is a reptile park, located in Darwin Central Business District (CBD), where visitors can sign up to enter the Cage of Death.
The Cage of Death is a popular tourist activity where you are placed in a cylindrical shaped cage that is then dropped into a pool with a large saltwater crocodile.
Address: 58 Mitchell Street, Darwin City
When to go: Year Round
During the activity, you are in the cage for 15 minutes, out of which the first 10 minutes, you see the action of the crocodile moving and trying to catch the food thrown at it, underwater and the last 5 minutes, above water.
It is truly an exhilarating experience to see one of the most powerful and dangerous land predators up close and the Cage of Death is surely a must do for adventure seekers.
Even though it is an adventurous activity, utmost care and safety precautions are taken by the staff and the visitor is briefed of every step and made comfortable before the activity begins.
It is best to book the activity well in advance as the slots do get booked out very quickly. It is advisable to be at the park at least 30 to 45 minutes before the start time to ensure all the paperwork and briefings are complete.
For those not keen to dive with crocodiles, a general admission ticket to Crocosaurus Cove is absolutely worthwhile and is one of the best things to do in Darwin for kids.
>> Click here to buy Cage of Death tickets and read customer reviews.
Contributed by Raksha from SoloPassport
---
3. Visit The Darwin Military Museum
All ages will have a great time exploring the Darwin Military Museum.
Located north of Darwin City past Fannie Bay, the Darwin Military Museum is best visited with a car or using the Big Bus Tour that takes in the tourist sights of Darwin.
There are 2 sections to the museum, an indoor exhibition featuring the interactive Defence of Darwin Experience and an outside open air museum with a huge range of larger artillery artefacts and military vehicles.
Address: Lot 5434 Alec Fong Lim Dr, East Point
When to go: Year Round
To get the most out of your visit, it is best to visit during the dry season so you can explore the garden exhibition but it is also worth the drive to only visit the indoor experience.
The Defence of Darwin Experience is a great overview of the Japanese bombing that took place in Darwin in 1942.
You hear first hand accounts from people that were there that day and the fascinating short film should not be missed.
Allow at least 1 hour to wander around the indoor exhibition before venturing outside into the gardens with a map so you don't miss the huge gun deck plus the Vietnam War exhibition housed underneath.
Open 7 days a week, except for some Public Holidays, the Darwin Military Museum should be on every Darwin itinerary and is one of the best things to do in Darwin with kids.
>> Click here to read more visitor reviews or purchase tickets here.
Contributed by Kate from Rolling Along With Kids
---
4. Tour The City On The Hop On Hop Off Bus
If you don't have a car for your stay, or are looking for an easy hassle free way to get an overview of Darwin city attractions, the Big Bus Darwin Hop on Hop off bus is a must.
The bus takes you past all the major landmarks in Darwin including the Military Museum, Mindil Beach, Crocosaurus Cove and the Waterfront Precinct (and many more).
It is a great way to get around if you are short on time or travelling with young kids.
Address: Main stop at Tourist Information Centre, Cnr of Smith and Bennett Streets
When to go: Year Round
It is a great service by the Big Bus Tours and a fun activity to undertake. There are two routes that the bus takes and you can choose based on your preference.
The amazing part of the ride is the flexibility to hop off at any designated stop of your choice and again hop in within a span of 24hour /48 hour ticket whenever you want.
Starting early on the day it takes you around 12 amazing landmarks.
Enjoy the top deck views from open top bus along with some entertaining audio commentary about the city running in parallel.
>> Click here to buy Darwin Hop On Hop Off Bus tickets
Contributed by Utkarsh from Journeys From Heart
---
5. Discover Unique Wildlife At Lee Point
The beaches of Casuarina Coastal Reserve at Darwin's Lee Point are a good opportunity to see what Australian beaches may have looked like prior to European settlement.
Largely ignored by the sunbathers they are teaming with wildlife. So if you are interested in seeing wildlife in Darwin and looking for free things to do in Darwin, Lee Point is a good place to start.
Address: Lee Point Beach, Lee Point Road, Darwin
When to go: Year Round
Black kites are everywhere at Lee Point: perching on dead tree trunks and on large pieces of driftwood, hopping on the sand and soaring above the beach.
The zone between the forest and the beach is good for spotting Beach stone-curlews – curious looking ground-dwelling birds that move about with a slow and deliberate gait and occasional short runs.
Further out to sea, above the rock shelves, Crested terns and Silver gulls swoop into the ocean like winged arrows and emerge with silver fishes wriggling in their beaks.
Catching the fish is only half the job for these birds, getting away with it from their hungry friends, or swallowing it whole on the wing is a bigger challenge. Watching their flight acrobatics is like watching a David Attenborough documentary on a giant 360-degree screen.
During the winter months, migrant species come to these beaches from as far as Siberia.
Flocks of Great knots swoop in and settle on the rock shelves enjoying the tropical warmth while they can.
The longer you spend at Lee Point, the more species you will discover. Reef egrets, Intermediate egret and Whistling kites come and go as the day wears on. Without people, Darwin's beaches become wildlife spectacles.
Contributed by Margarita from The Wildlife Diaries
---
6. Enjoy The Views On The Heli Pub Tour
A pub crawl is nothing new in Australia, but Darwin takes it to a whole new level with an epic trip to a few local pubs – by helicopter!
Taking off from the city, the tour takes visitors to five different pubs around Darwin, each with its own personality and quirks. It is by far one of the most unique and memorable activities in Darwin.
There's the pub on a tiny island in the middle of a croc-infested river, a resort-style bar on a beautiful sandy beach, and even a country pub that has its own pet freshwater crocodile.
It's a pretty rock-star experience to land right at the entrance to these pubs in a private chopper!
Address: 557 Stuart Hwy, Winnellie
When to go: Year Round
The helicopter pub crawl in Darwin is run by Airborne Solutions and can be arranged for any day.
Although, like much of the Top End, it's going to be more pleasant to do it in the dry season (when it's unlikely it will be postponed because of poor weather).
The chopper takes off from a landing pad next to the Aviation Museum, about ten minutes' drive from the centre of the city.
Each helicopter fits up to three passengers – if there are more people, multiple choppers will be used.
As well as the pubs themselves, the flight is the absolute highlight of the experience.
There's around two hours flying time in total, across a variety of landscapes with incredible views. All of this combined makes the helicopter pub crawl a unique and very cool Darwin activity.
>> Click here to book the Heli Pub Crawl
Contributed by Michael from Travel Australia Today
---
7. Visit The Museum And Art Gallery Of NT
The Museum and Art Gallery of Northern Territory (MAGNT) is a great place to visit to learn more about Darwin's history and explore the latest exhibitions.
Our kids loved the Cyclone Tracy exhibit and exhibition of Indigenous Art that was on at the time.
You also get the chance to see it's most famous resident (Sweetheart the crocodile) and seasonal art exhibitions. There is a great shop onsite with gorgeous local arts and souvenirs for sale too.
Address: 19 Conacher St, The Gardens
When to go: Year round
MAGNT is a gorgeous gallery space and is certainly one of the top things to do in Darwin for free.
Plan to spend at least 1-2 hours exploring the gallery and browsing the shop. The gallery is on the Hop On Hop Off bus route, or there is parking onsite.
---
8. Enjoy A Top End Sunset
Darwin is famous for its sunsets and there are plenty of ways to take them in along the foreshore.
One of the best places to enjoy Sunset is at Nightcliff Jetty.
There are often food trucks parked nearby for a casual picnic, and a path meanders along the foreshore through parks and along the beachfront.
We were treated with a spectacular sunset sitting here on our last visit to Darwin.
Address: Nightcliff Jetty, Nightcliff
When to go: Sunset, year round
Another great option is to book a sunset cruise on Darwin Harbour.
There are plenty of options available, ranging from a sunset dinner cruise with 3 course meal onboard a large catamaran to casual fish and chips onboard a smaller boat.
If you love to get out on the water, a Darwin cruise is one of the best ways to take in their incredible sunsets.
>> Click here to book a Sunset Cruise on Darwin Harbour
---
9. Cool Off At The Darwin Waterfront Precinct
As ocean swimming isn't recommended due to the local crocodiles, the Darwin Waterfront Precinct is a great place to visit to cool off and enjoy a meal by the ocean.
Address: 7 Kitchener Drive, Darwin Waterfront Precinct
When to go: Year Round
The precinct is home to a range of popular Darwin attractions and activities including:
Wave pool, recreation lagoon and aqua park
Deckchair Cinema
Playground and parklands
Royal Flying Doctor Service
World War II Oil Storage Tunnels.
Entry to the lagoon is free, but there is a fee for entry to other activities such as the cinema, wave pool and aqua park.
There are plenty of restaurant options nearby where you can enjoy a drink or meal by the ocean.
If you are looking for fun things to do in Darwin, you can't go wrong with a visit to the Darwin waterfront precinct.
---
10. George Brown Darwin Botanic Gardens
The George Brown Botanic Gardens are adjacent to Mindil Beach and a great place to go when you need an outdoor break from sightseeing Darwin.
Set over 42 hectares the gardens feature an extensive range of tropical plants and trees as well as large open green spaces.
Address: Gilruth Ave & Gardens Rd, The Gardens
When to go: Year Round
With waterfalls, lagoons, playground and grassy open spaces, they are the perfect place to enjoy a picnic or let the kids burn off steam.
The gardens are free to visit and are around 2 kms from the centre. There is a visitor centre and cafe onsite.
---
Top Things To Do Around Darwin
If you have a little more time during your stay in Darwin, there are some great things to do near Darwin Australia to consider adding to your itinerary.
1. Take A Jumping Crocs Tour
Without a doubt, one of the best tours you can do from Darwin city is a jumping croc cruise on the Adelaide River.
Home to the world's most dangerous crocodiles, saltwater crocodiles, a cruise on the Adelaide River is both an interesting and exhilarating experience.
This is such a unique activity and definitely one of the must see things in Darwin.
Address: Arnhem Highway, Window on the Wetlands
When to go: Year Round
When you join a jumping croc cruise you will be picked up from your hotel in Darwin before being driven about 40 minutes to the Adelaide River.
Then, you'll cruise on the river watching wild saltwater crocs jump out of the river to eat chicken. That's right, the crocs actually do jump out of the water – it is one of the most amazing things to see in Darwin!
During the cruise your guide will also provide live commentary where you will learn all about crocodiles.
Many of the larger male crocodiles are well-known by tour guides and they even have names and unique personalities. Expect to see crocodiles as long as 6 meters – they are seriously huge!
Jumping croc cruise tours typically are half-day tours and it's an activity that is possible to do all year round, even in the wet season.
>> Click here to buy tickets and read customer reviews
Contributed by Bailey from Destinationless Travel
---
2. Visit Berry Springs Nature Park
Berry Springs Nature Park is just 45 kms south of Darwin and is a great way to spend the afternoon when in the top end.
With loads of shaded green space to enjoy a picnic, the highlight is a swim in the Berry creek.
Address: Berry Springs Nature Reserve, Berry Springs NT
When to go: May – September
The colour of the spring-fed water is a pretty green and there are a range of small and large lagoons for swimming.
It is easy to combine a stop here on the return from Litchfield National Park if you have time, or if returning to Darwin after visiting some of the other famous NT landmarks in the state.
There are barbeques and public toilets onsite and entry is free. Note that the pools may be closed during the wet season from October to April.
---
3. Take a Day Trip To Litchfield National Park
One of the most popular day trips from Darwin is a tour of Litchfield National Park.
If your Northern Territory itinerary does not include a stop at Litchfield NP, it is well worth planning a day trip from Darwin.
Address: Litchfield Park Road, Litchfield Park NT
When to go: Year Round
Highlights of a visit to Litchfield include swimming at Buley Rockhole, Florence Falls and Wangi Falls and admiring the enormous Magnetic Termite Mounds.
If you have your own car, it is possible to visit the parks independently. However it you don't have a car, or would prefer to go on an organised tour there are plenty of tour options available.
We recommend you don't try and squeeze too much into a single day and look for Darwin tours that just take you to Litchfield for the day as it is a beautiful area to explore and there is plenty to see.
>> Click here to book a day tour to Litchfield National Park
---
Other Places To See In Darwin And Surrounds
If you have more than a couple of days in Darwin there are heaps of other things to see and do in Darwin NT including:
Exploring the nearby Tiwi Islands
Taking a tour of the Mary River Wetlands
Visiting Territory Wildlife Park
Taking a Fishing Charter Trip
Shopping for Indigenous Art at Mbantua Fine Art Gallery
Darwin Attractions Map
Our map is a handy reference to show you the location of each Darwin attraction.
The numbers are aligned with the attractions in Darwin listed below.
Best Accommodation In Darwin
If you are spending a few nights in Darwin you will need to book some Darwin accommodation for your stay.
Whether you prefer hotels in Darwin, apartments, campgrounds or family accommodation, Darwin has plenty of options to choose from.
Below I have listed a few of the best places to stay in Darwin based on different budgets.
Set on 30 acres alongside the ocean, this 5-star resort is one of the best places to stay in Darwin.
All rooms feature air conditioning, flat screen TV, free Wifi and private bathrooms. Most rooms also have a balcony.
The resort features Darwin's only swim-up bar and has a private white sand beach. There are plenty of dining options onsite as well as 24-hour reception and a fitness centre.
>> Click here to check prices and availability.
The Argus Apartments are modern apartments centrally located in the Darwin CBD.
The 1,2,3 and 4 bedroom apartments are fully self contained with full kitchen, laundry, separate living area, BBQ and free WIFI.
Shared facilities include a swimming pool, bbq area fitness centre and spa. Parking is available onsite.
If you don't have a vehicle this is also a great option as the apartments are close to all the main attractions and transport options.
>> Click here to check prices and availability.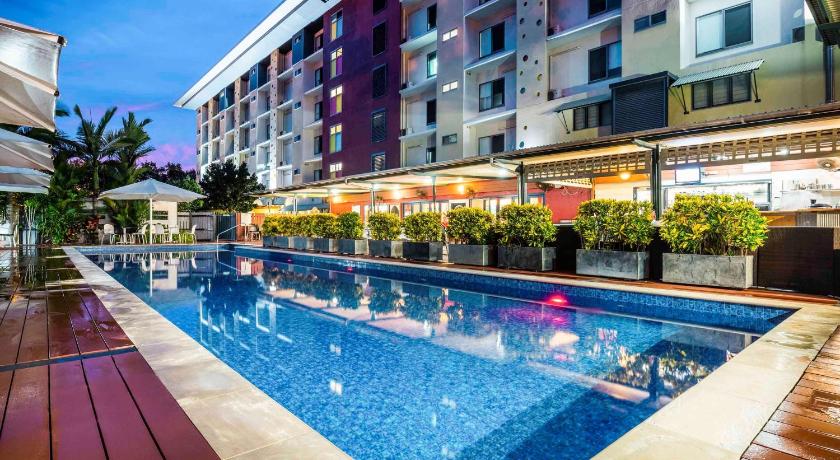 If you are in Darwin for just a short time and have a late night or early morning arrival or departure (which so many domestic flights seem to be!) then the Novotel Darwin Airport is a great option and is where we stayed on our most recent visit to Darwin.
Located just 250m from the airport entry, it is a short walk to and from the hotel.
Rooms feature air conditioning, flat-screen TV and a private bathroom as well as a fridge. Some larger rooms also have a balcony and cooking facilities.
Shared facilities include a 25m lap pool to cool off and free parking.
It is an easy 15 minute drive into the city.
>> Click here to check prices and availability.
Budget accommodation in Darwin can be challenging as there isn't a lot available!
There are several hostels in the city, but they tend to be backpacker and party-focused and not the most family friendly.
The Metro Advance Apartments offer studio, 1 bed and 2 bed apartments in the city centre.
Studios have kitchenettes and apartments have a full kitchen to help save money on food during your stay. All units come with air conditioning and cable TV.
There is a pool onsite as well as BBQ and laundry facilities.
>> Click here to check prices and availability.
If you are passing through Darwin with your camper or caravan, the Darwin FreeSpirit Campsite is a great accommodation option.
With powered sites, cabins, a pool, bouncing cushion and onsite restaurant, it is the perfect place to stay with kids when visiting Darwin.
>> Click here to check prices and availability.
Frequently Asked Questions
What can you do in Darwin for free?
– Watch Sunset at Mindil Beach
– Visit the Museum and Art Gallery of NT
– Swim at the Recreation Lagoon
– Picnic and swim at Berry Springs Nature Park
– Wander through the George Brown Darwin Botanic Gardens
What is there to do in Darwin at night?
– See a movie at the outdoor Deckchair Cinema
– Eat and shop at the Mindil Beach Sunset Market
– Enjoy a Sunset Cruise on Darwin Harbour
– Watch Sunset from Nightcliff Jetty
How long do you need in Darwin?
With 2-3 days you can explore most of the top things to do in Darwin. You will need longer to visit areas outside of the city like Litchfield or Kakadu National Park.
Final Thoughts
I hope you enjoy visiting these top things to do in Darwin when you visit Darwin on your next trip.
What are your favourite things to do in Darwin city? Let us know in the comments below!
If you are planning a trip to the Northern Territory, you can find more Australia travel articles here or feed your wanderlust with all our destination guides.
More articles to plan your Top End trip:
Did you find this article useful? Don't forget to follow us on Facebook, Twitter or Pinterest to see more travel articles like this one in your feed.
Pin and share